About
The Medicine Shoppe® Pharmacy
At The Medicine Shoppe® Pharmacy, we're committed to the idea that quality pharmacy care means more than just prompt prescriptions. To us, quality care means that you get the prescriptions and medications you need, along with the care and attention you deserve.
Our pharmacy is dedicated to the wellbeing of your family and the wellbeing of the community. That's why we offer services such as immunizations, medication therapy management, multi-dose packaging, medication synchronization, important health screenings, and expert care*. We strive to make it convenient for you and the people you care about to live a healthy life. Think of us as your community healthcare destination.
*At participating Medicine Shoppe Pharmacy locations
White Mountain Pharmacy is a new pharmacy in the White Mountains of Arizona. We are happy to be serving the White Mountain Community. We provide prompt, efficient service and take pride in our excellent customer service. White Mountain Pharmacy is also the only compounding pharmacy in Navajo County. Here are a few of our priorities:
Serving with the highest respect for your privacy
Maintaining your dignity as we provide you with healthcare supplies and medication needs
Efficiently maintaining your medication records and coordinating with your physician
Providing your medication in a timely manner
Always serving with a smile White Mountain Pharmacy is your friendly hometown pharmacy
We hope you can drop by our pharmacy today. White Mountain Pharmacy is at your service. For inquiries, please call 928-537-8555.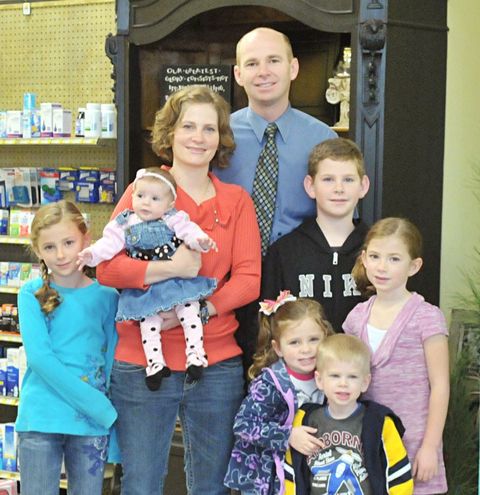 Nick Bryce, RPh
Nick Bryce has been working in the pharmacy profession since 2002 and graduated from the University of Arizona's College of Pharmacy in 2006. He grew up in the southern Arizona communities of the Gila Valley and Saint David. Growing up in these small communities, he developed a love for small town living. He relocated with his family to the White Mountains in 2012 to pursue his pharmacy dream of becoming a small town pharmacist/owner.
Nick's work philosophy stems from his religious belief in God and in treating others as children of a loving Father in Heaven. This is the key element of the pharmacy's mission statement and has been adapted by the employees as well.
Nick and his wife, Rebecca are the parents of six children. The little ones can often be seen scurrying around the pharmacy.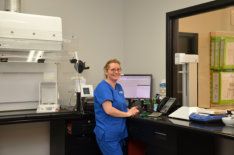 Val, CPhT
Val has been working in the pharmacy industry for over 12 years and took interest in specialty compounding 8 years ago. Val thrives off of problem solving as she helps our customers find the right formula for their personalized compounds. She also enjoys keeping up with the latest finds in the innovative field of compounding.
Val grew up in the valley of the sun, on a small acreage, riding, breaking and training horses. When she afforded the opportunity to move her family to the beautiful white mountains, she jumped on it. She lives here with husband, Dane and 3 children.